Here at DIXTRA, we know it can be challenging for a new company to balance high-impact development with its day-to-day needs. That's why we're here to help you out! As experts in frontend and mobile development, we use our UX/UI knowledge to help our clients create game-changing products. We've got over 40 products delivered, and we work every day to challenge commonplace solutions to deliver the extraordinary. In addition, we help you find your best path between your products and users so that you can focus on other important business matters.
We've been listed as a top software development partner by Clutch, a B2B market research authority, in recognition of our success and process. They leverage a unique ranking formula to compare and contrast leaders on a number of crucial criteria. Clutch's work helps interested vendors find the partner of their dreams to fill important business needs.
We couldn't have earned this distinction without the support of our wonderful clients. They took time out of their busy lives to engage with Clutch to assess our impact on a number of important elements. First, we were graded on qualities such as effectiveness, punctuality, timeliness, and project management. Then that transcript was edited lightly by the Clutch team and published on our profile.
We're happy to report we've earned a glowing five out of five stars on our first Clutch review ever! In the review, a fitness tracking company left feedback for our ongoing development maintenance for their platform. Our work was described as a complete success! They love our commitment to helping their company thrive with quick solutions to issues that arise. They especially appreciate our diligence and attentiveness!
Another great review is the one below.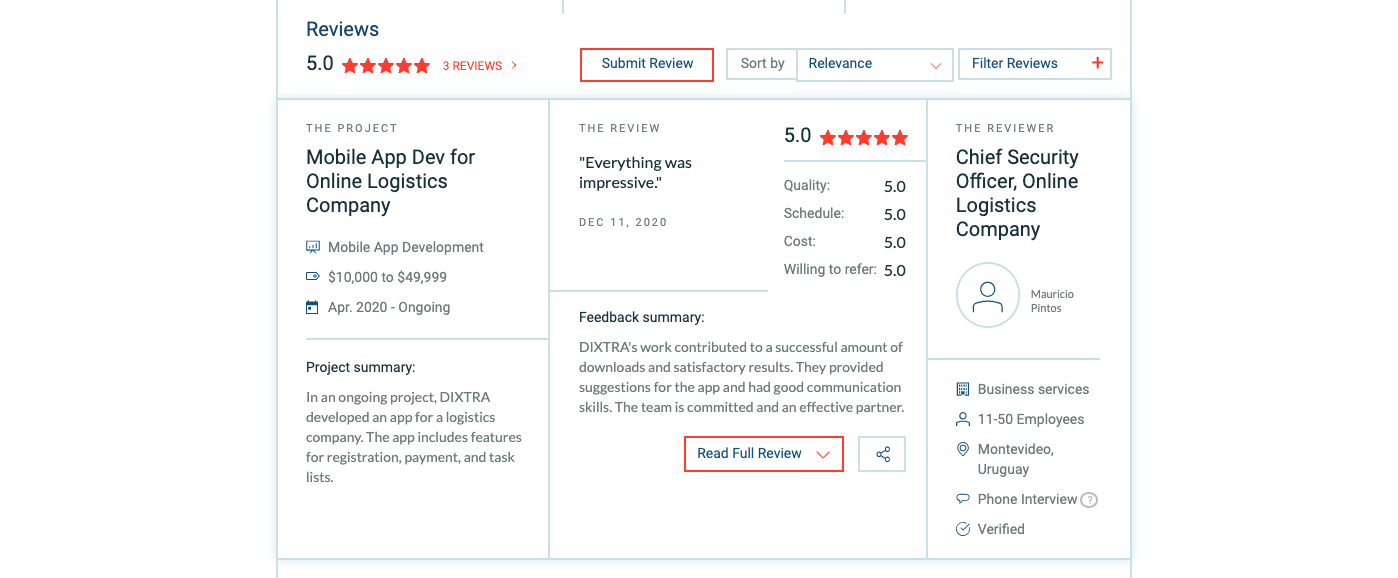 DIXTRA appreciates feedback in all the forms it may take. It helps us figure out which processes we have that should stay in place and which ones should be phased out. We especially like feedback in the form of Clutch reviews because of how thorough they are. In addition, potential clients can pop over to our profile and see what our previous clients have to say in a detailed, organized format.
The Manifest is another great platform where you can learn about our work. It's a company listings site that ranks businesses according to their performance on industry success metrics. We're included in their directory of the top 40 software companies in Uruguay!
Interested in learning more about how DIXTRA can help your company soar? Drop us a line today!